What does being healthy mean to you?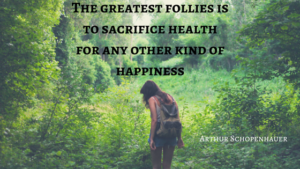 Is it an hour a day at the gym?  Eating salad with your dinner?  Being a week-end warrior (insert sport)?  Is it simply not being sick?
Did you know that 1 hour at the gym in a 24 hour period only translates to being active 4% of your day?  4%.  That's it.  So is that really enough to maintain your health over the long term?  Health and being healthy can and does mean different things to different people based on many factors.  Age, family history, activity level, education, financial stability and environment (work and home) can all contribute to a healthy lifestyle and your ability to live.
Many people find it overwhelming and don't know where to start their health journey.  While it's good to set goals, the key to getting your health to where you want it to be is to JUST START.  TODAY.  NOW.
So… today focus on your habits and how you move.  Do you sit for extended periods?  Do you slouch/have poor alignment?  Are you stressed from work or commitments? Do you drive instead of walk to the Rabba/Valumart/Metro?  Are you unable to reach up over your head to get something?  Is it difficult to bend or squat to put on your shoes?
If you answered yes to any or all of these, then you need to change the way you move.  Today.  Losing your ability to move unrestricted has a great impact on the health of you muscles, bones and joints.  This in turn can affect your heart and lung function, circulation and overall health.  Lack of movement in an area of the body leads to lack of circulation to feed important nutrients to the cells, organs and tissues.  And in the body, if something isn't building or growing, it is deteriorating.
Take osteoporosis as an example.  It is a process, where the bone destroying cells override the bone building cells due to lack of physical load.  To create strong healthy bone, this process needs to work in harmony and be balanced.  Nutrition plays a part, but if you are not providing the bones with load-bearing activity then there is no stimulation for growth.  This is a huge issue as we age, especially for women.  People often go on medication to help with their osteoporosis, but this medication simply stops the bone destroying process, it does not stimulate the bone building process.  The result is a system out of balance.  You need good alignment, activity and proper nutrition to make this system work.
At Kingsway Health by the Lake our goal is to optimize your physical function so you enjoy everyday life unrestricted.  It's time to take back your health and stop being content with simply not being sick!  If you want to put your body back into balance, and rejuvenate your cells for a long and healthy life, we can help you do that.  We have been helping patients in Etobicoke for over 40 years and we are continually committed to furthering people's health on the whole, not just putting a band-aid fix on the problem.  We want to see you walking, running and enjoying the beautiful Waterfront Trail as this amazing community continues to grow.
Shayne Henderson is a Registered Kinesiologist, Massage Therapist and Movement Specialist at Kingsway Health by the Lake.